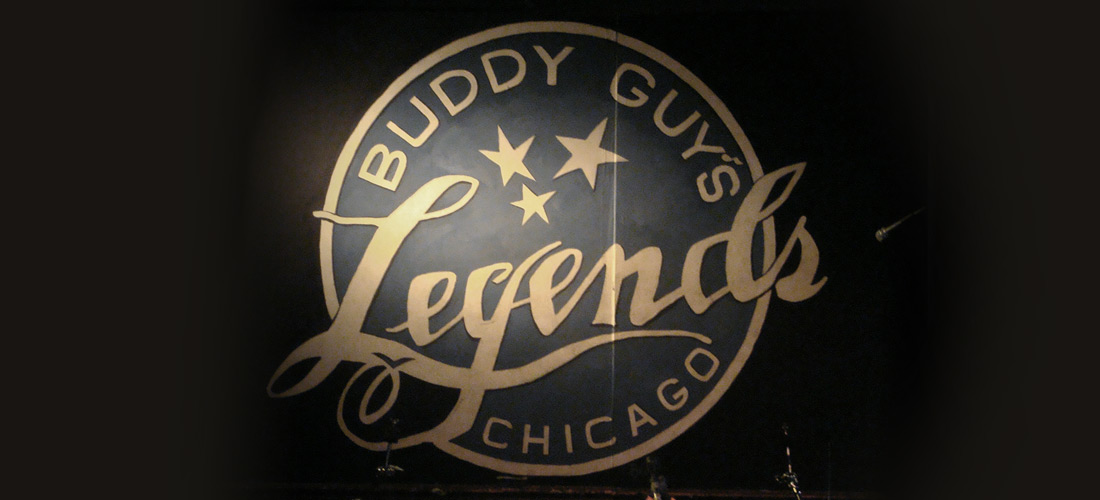 THE PREMIERE BLUES CLUB IN THE WORLD
Since its opening in June of '89, Buddy Guy's Legends has built a reputation as the premiere blues club in the world. Backed by Mr. Guy's personal reputation as the crowned king of Chicago's electric blues scene and his 50+ years in the music business, Legends is distinguished for its innovative scheduling of local, national, and international blues acts.
THE WORLD'S MOST TALENTED MUSICIANS
In the twenty-five years that Legends has been open, the stage has been graced by some of the world's most talented musicians. Blues greats like Willie Dixon, Koko Taylor, Otis Rush, Albert Collins, B.B. King, Hubert Sumlin, Johnny Winter, Stevie Ray Vaughan, Dr. John and Junior Wells. Rock stars, including Bo Diddley, Eric Clapton, The Rolling Stones, David Bowie, ZZ Top, Lou Rawls, Gregg Allman and Slash. Even pop stars like John Mayer, Sheila E and The Pointer Sisters have made their way to this legendary stage.

In November 1994, Eric Clapton graced the stage with three sold-out performances. The unprecedented concerts awed the crowd as Clapton called up Otis Rush to jam and nodded to the Who's Pete Townsend, who had stopped by to take in the show. Legends truly lives up to its name.

Buddy Guy himself performs every January, selling out a sixteen show residency year after year, delighting crowds that have traveled from all over the world. Some of his fans will camp out overnight – in January, in Chicago – to make sure they get front row seats.
A MUSEUM, IF MUSEUMS WOULD LET YOU DRINK AND DANCE
Beyond the legendary performers on stage, the walls are overflowing with the history of the blues. It's like a museum, if museums would let you drink and dance. Where else can blues fans find original artwork painted on the wall, records, rare photos and old Howlin' Wolf contracts, along with personal items from some of the world's most influential performers? Among the many items on display: Buddy's Grammy and Blues Music Awards (he's won 34 – more BMAs than any other artist) as well as his Kennedy Center Honors and Rock & Roll Hall of Fame statue. You'll also find the guitar Keith Richards gave to Buddy in the Scorsese film Shine A Light, gloves from Muhammad Ali, and the most recent addition: a pair of shoes and a scarf from Jimi Hendrix. A world-renowned collection of guitars hangs behind the bar, gifts from B.B. King, Carlos Santana, Eric Clapton, and Stevie Ray Vaughan.

I AIN'T THROUGH YET
Now just past its 25th year, the club, like Buddy himself, shows no signs of slowing down- as Buddy would say, "Hang on a minute, I ain't through yet." Legends continues to grow and innovate.

Buddy now has his own beer, The Buddy Brew, with his signature polka dots all over the Stratocaster tap handle and the black and white bottles. The club has launched the Intimate Concert Series, bringing high profile acts like Johnny Winter, Sheila E, and Larry Carlton to play up-close-and-personal shows for their fans. Legends has partnered with WYCC PBS Chicago to produce a TV series, "Buddy Guy's Legends Presents The Chicago Blues." And now they are sending the blues around the world each night, with live video streaming of every performance through BuddyGuy.TV.

There is only one place in Chicago to experience the finest blues seven nights a week, enjoy fantastic southern Cajun soul food and behold a major archive of blues memorabilia. That place is Buddy Guy's Legends. Voted "Best Blues Club" several times over by Living Blues Magazine, Citysearch, and given the "Keepin' the Blues Alive" award by the Blues Foundation, Legends continues to be a mecca for the blues.